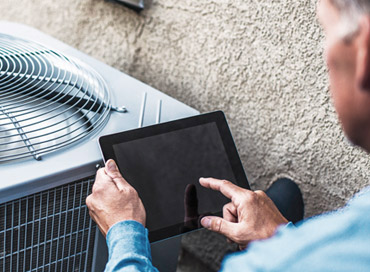 24 Apr
6 Questions to Ask Before Repairing or Replacing Your Air Conditioner
You're at a crossroads. Your air conditioner has been acting up, prompting you to call your local HVAC contractor for service. After diagnosing the issue, your technician gives you two options. You can either repair your current system or replace it with a new one. Which option should you choose? Before you make your decision, there are several factors to consider.
Here are 6 questions to ask yourself before you decide whether an AC repair or replacement is right for you:
1. How Old is Your Current System? According to the Department of Energy, the average system lifespan for an air conditioner in the United States is 15-20 years. But in Florida, system life expectancy can be much lower. Here, we use our air conditioners almost year-round. Plus, the units are exposed to high humidity levels, saltwater, and sulfur which take their toll over time. These factors result in an average lifespan in the neighborhood of 10-12 years. Some systems last longer, others shorter. The longevity of your system can also depend on other factors such as the quality of the original installation and how well the unit was maintained. But the general rule is that if your system is over ten years old, it's time to give the replacement option some serious consideration.
2. How Expensive (and Extensive) is the Repair? Is the necessary repair minor, like clearing a clogged drain line or replacing a busted capacitor? Then the cost of the repair alone is not likely high enough to make you consider replacing your system. However, if your air conditioner is over ten years old and the estimated repair bill is close to 50% of its value, replacement begins to make more sense. Another aspect to consider is how often your current system needs repair work done. Has the unit been running without a hitch, or do you find yourself calling for emergency AC repair service every few months? In the latter case, it would be more cost-effective to invest in a new system, rather than continuing to throw money into an old, unreliable unit.
3. Is Your Current Unit Well-Maintained – Or Not So Much? Proper maintenance has a direct impact on your air conditioner's reliability, efficiency, and life expectancy. In fact, we've observed that 50% of all costly AC problems could be avoided just by keeping up with regular maintenance. If you've been faithfully doing the following: changing the filter (we recommend once every 1-3 months), keeping your outdoor unit free of plant growth and debris, and calling your local HVAC company for annual tune-ups, …your AC will operate more efficiently and last longer. But if you've neglected regular maintenance, the problems you're experiencing with your system right now might be a direct result. You may even need to replace the system sooner than would have been necessary had it been properly maintained. " If you upgrade your fifteen-year-old 12 SEER unit to a 16 SEER unit, you're looking at a potential cooling cost savings of 25% per year*.
4. How Efficient Is Your Current Air Conditioner? Do you know your air conditioner's SEER rating? SEER (Seasonal Energy Efficiency Ratio) represents how efficiently your air conditioner operates. The higher the SEER rating, the less energy the system consumes. Since January 2015, all new air conditioners installed in the Southern United States must have an efficiency rating of at least 14 SEER. In January 2023, the minimum efficiency rating will increase to 15 SEER. Currently, new AC systems are available with efficiency ratings ranging from 14-25 SEER. (We're referring to ducted split systems here. Ductless and packaged systems have different efficiency ranges.) If you upgrade your fifteen-year-old 12 SEER unit to a 16 SEER unit, you're looking at a potential cooling cost savings of 25% per year*. In most cases an air conditioner's operating efficiency declines with age (or due to poor maintenance — see above). So, after fifteen years, your 12 SEER air conditioner might be operating nearer to a 10-SEER level. This means you could save closer to 38% per year on cooling costs by upgrading to a 16 SEER system*. Upgrade to a system with an even higher SEER rating and your potential savings will increase. See for yourself – use our SEER Energy Savings Calculator to learn how much you can save by upgrading to a more efficient air conditioner. And remember, saving energy not only benefits your wallet but also the environment.
5. Could You Benefit from New Technology? As we alluded to above, air conditioning technology has advanced in recent years. And depending on your needs and budget, some of these new-fangled innovations might be right up your alley. For example, two-stage and variable speed technology allow precise temperature and humidity control. Communicating systems continuously monitor your air conditioner's performance. They can remind you when it's time to change your air filter or clean the condenser. The system can even notify your chosen HVAC technician if the unit needs service. Also, smart thermostats allow you to control the temperature in your home from your smartphone. Some can even adjust the temperature automatically when you leave and when you return home. Many smart thermostats interact with other home automation devices like Amazon Alexa. Light sleeper? Recent design innovations have resulted in quieter system operation, so the air conditioner is less likely to wake you during the night as it cycles on and off. Some of these innovations come with a higher price tag than a traditional single-stage system without the bells and whistles. But you can offset that initial cost with the energy cost savings — and often, better warranties and rebate incentives — that come along with a higher-efficiency system. This brings us to our next question… " Many of our customers have found that a new air conditioner can pay for itself over time — thanks to a combination of rebates, warranties, and energy savings.
6. Are There Rebates or Other Incentives Available? HVAC manufacturers, power companies, and even local governments occasionally offer rebates or other incentives toward the purchase of higher efficiency air conditioning equipment. Be sure to ask your technician to make you aware of any programs being offered right now – these may vary from region to region and from company to company. But they can save you anywhere from hundreds to over a thousand dollars on your new air conditioner purchase. Many of our customers have found that a new air conditioner can pay for itself over time — thanks to a combination of rebates, warranties, and energy savings.