Heating Repair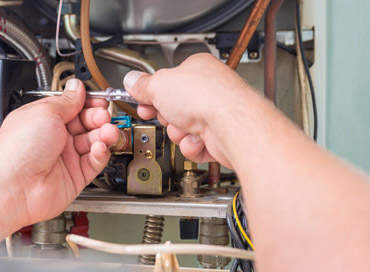 Heating Repair
At Heco Heating & Air Conditioning we are determined to help all of our valued customers throughout Sacramento and the surrounding communities to maintain a fully functioning heater for years to come. With our thorough inspections, expert tune-ups, and prompt repair services we can ensure a longer-lasting system and a more comfortable home. Loss of temperature control inside your residence is something no one should have to experience, which is why our heating professionals are always there when you need them.
If you are looking for reputable heating services at a reasonable price you have found them here at Heco Heating & Air Conditioning What Are Some Signs That Your Heater Needs to Be Repaired?
If heat is not being evenly distributed throughout your property, it is time to call in our team of professionals to determine what is causing the issue. This could be as simple as a problem with your thermostat or it may be a more serious issue like a cracked heat exchanger. Leaking ductwork can also cause temperature inconsistencies throughout the rooms of your home. Higher utility bills without any change in the use of your system typically indicate an efficiency problem, which will need to be addressed before your heater fails altogether. Strange noises coming from your unit will also warrant the need for professional services in order to have this problem corrected.
What Can You Expect from a Routine Furnace Maintenance Inspection?
First, our heating specialists will shut off the power to your unit in order to begin the inspection. We will check all working components to see that they are functioning properly. Any issues like worn-out belts or other damaged parts can easily be replaced so you can continue benefiting from an efficient heating source. We will also clean your heater and replace your filters when necessary. Scheduling routine inspections and maintenance services allow our professionals to catch any problems early on before they turn into more serious complications.
How Can a Malfunctioning Furnace Unit Affect Your Home?
COMFORT: When your heating system starts to malfunction your home may no longer reach the temperature your desire. By contacting our licensed technicians you will know exactly what the problem is and the most effective way in which it can be resolved.
RISING COSTS: Issues with your heating system can cause your heating bills to skyrocket. Upon noticing this issue, get in touch with the knowledgeable professionals at Heco Heating & Air Conditioning so we can get the situation back under control.
INDOOR AIR QUALITY: A heating system that is not properly maintained can spread dust and other contaminants throughout your home, which can have a negative impact on you and your family's health. Don't let this go on any longer, get in touch with our friendly staff today. FIRES: When heater malfunctions it can actually start a fire, which can threaten the safety of you, your family, and your home.
Heco Heating & Air Conditioning wants to protect our customers at all costs, which is why we always encourage routine inspections.
Cooling Services

Heating Services
Our Contacts
3440 Fulton Avenue, #31 Sacramento, CA 95821

Monday-Sunday
8:00 am - 7:00 pm

24/7 Available Service: (916) 813-2766